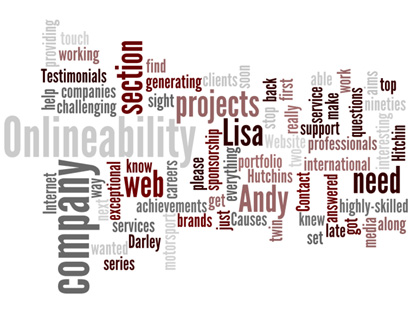 General
This site is owned and operated by Chartfield Consultants Ltd, trading as Onlineability – throughout this page, that's who is meant by the words 'we' and 'us'. 'You' is intended to refer to the user of, or visitor, to the site. English law applies throughout.
This site is provided on the basis that users should read these terms and conditions and continue with use only if they find them acceptable. We will do our best to announce any changes via means including posts on our blog, however, it is your responsibility to ensure you are familiar with the latest version.
In particular, the following points are important:
It is a condition of your using this site that you understand the information on here is provided on the basis that we disclaim all warranties, whether express or implied.
Using the site creates no legal relationship between you and us. We cannot be held responsible for any loss or damage arising out of or in connection with your use of the site. Nor do we accept any liability for any direct, indirect, incidental, or consequential loss of business profits or special damages arising from publication of material on the site.
We are not responsible for the content of external sites linked to from this site, nor for any loss or damage caused by your use of those sites. We will not be held responsible for any dispute between you and them, whether as a result of a purchase or of a loss of programs or other data on your computer, even if we were advised of the possibility of such damages.
Accuracy and defects
All links to external sites are accurate to the best of our knowledge at time of publication and where possible we work to ensure that each page remains up-to-date at all times. However, external sites can change without warning, so please check with each individual site for its terms and conditions.
Although we do our best, we cannot warrant that the functions contained in the material contained in this site will be uninterrupted or error free, that defects will be corrected, or that this site or the server that makes it available are free of viruses or bugs. We cannot guarantee the full functionality, accuracy, reliability of the materials – but we welcome feedback whenever you spot a problem.
Re-use of content
All the material in these pages is the copyright of Chartfield Consultants Ltd or of named individuals or organisations such as photographers or retailers. It should not be reproduced without express written permission. The exception to this is the use of press releases published in the news section – they will be marked as such and clearly identifiable.
To discuss re-use of material please use the details on the contact page.
We have taken care, wherever possible, not to breach any copyright, trademark or restriction, and to obtain permission to use material reproduced here. If you recognise anything as subject to protection, it will be removed if the site owner is satisfied that a breach of copyright or trademark ownership has occurred. Please use the contact details provided to inform us of any such issue.
Links to commercial sites do not imply endorsement of the goods or services they advertise.
Your responsibilities
By visiting this site, you agree to use it only for lawful purposes and in a way that does not infringe the rights of, or restrict or inhibit the use and enjoyment of this site by, any third party.
You agree to avoid unlawful behaviour or conduct that may harass or cause distress or inconvenience to any person, and not to transmit obscene or offensive content or disrupt the normal flow of dialogue within this site. In particular, you agree to play nicely in the public sections of any blog or message board set up on the site.