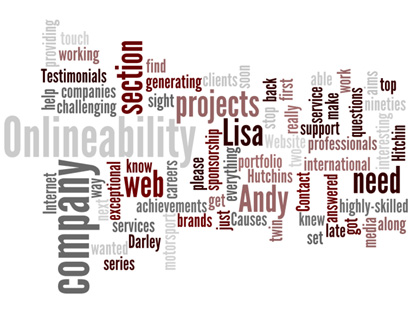 We're proud of the work that we do, and we believe this is reflected in its quality.
But don't just have to just take our word for it – here is what some of the people we worked for, both individually and as Onlineability, have thought about us:
Client and partner testimonials:
Hannah James, team principal, YourRacingCar.com

"Behind Brits on Pole is a very accomplished web outfit. It's no good just having a news portal, you've got to get people to it, keep it current and write stories that people want to read. So what is it that sets Brits on Pole apart from the others? They don't regurgitate stylized press releases, opting instead to talk directly to the subject and find a unique angle.
"It's for this and many other reasons that we're proud to carry the branding of Brits on Pole and their mothership, Onlineability this season. They have embraced our story, reported it brilliantly and joined our Deals on Racing Wheels scheme."

Sarah Clement, deputy manager, Screech Owl Sanctuary, Indian Queens, Cornwall

"We would like to thank Andy and Lisa for an abolutely fantastic new website. The work they have done is incredible and their service was second to none. We would strongly recommend Onlineability.
"Andy and Lisa have been very patient and understanding with us when we've had difficulties understanding web jargon and always explained things thoroughly. They've been just on the end of the phone to answer any queries we've had along the way, and are full of helpful advice and tips. We are really pleased with and proud of our new site. Thank you Andy and Lisa for all your fantastic work."

Editor, national newspaper website:

"Both carried out several years of shift work in the hectic early days. This embraced both editorial and design functions and required a high level of reliance on their reliability, accuracy and skills. I can state quite happily that I never felt let down in these factors in any way at all by either of them… Our site requires a comparatively high degree of html knowledge from its journalists. Both Lisa and Andy have skills that are well in excess of our requirements."

Editor, national trade paper website:

"Both Lisa and Andy consistently produced work of the highest quality. Each had particular strengths – Lisa as a writer and reporter, Andy as a web design and production specialist. Both were also excellent all-rounders, as you have to be on a daily-updated website with a small staff… Lisa and Andy were both utterly professional in their approach to the work. As well as being entirely reliable and conscientious they both also showed great initiative. They were also a pleasure to work with."

Magazine publisher, commissioning education consultancy from Lisa:

"It was a pleasure to have you working on this project and I know the team much appreciated your enthusiasm and quick turnaround with ideas"

New media agency, commissioning content management services from Andy:

You have proved to be a resourceful, adaptable, and highly supportive member of the team, combining a high level of communication skills with technical ability. Nowhere was this more valuable than during the recent [project], where you proved your worth time and again.