Andy's Boxing Day chills will help youngsters learn life-long skills
By Onlineability,
Onlineability's Andy Darley is to put aside the comforts of Christmas this year and dash into the chilly sea on behalf of a charity commemorating a young racing driver.
While most people will spend Boxing Day with their feet up in front of the fire snacking on left-overs, he will be in Cromer, Norfolk, taking part in the town's infamous Boxing Day Dip.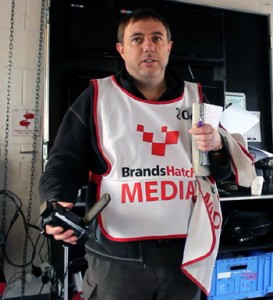 The 45-year-old from Hitchin is hoping to raise £200 for the Henry Surtees Foundation, a charity set up following the 18-year-old's death in a freak accident during a Formula 2 race in 2009.
The foundation was created by Henry's father, multiple world champion John Surtees OBE, to assist people injured in accidents return to community living, and also to use motorsport to improve young people's education, training and skills in areas such as technology, engineering, fitness and the media.
Mr Surtees is supporting Andy's efforts, saying: "Most people would be dreaming of dipping into a warm sea on a Caribbean Island at Christmas. Andy's choice of dashing into the North Sea on Boxing Day on behalf of the Henry Surtees Foundation is very welcome and appreciated. But it makes me shiver just to think about it! Good luck Andy and thank you."
His words were echoed by Formula One test and reserve driver Sam Bird, who has worked with the Foundation in the past and was recently presented with the Graham Hill Trophy by Mr Surtees.
He said: "When I heard about Andy's plan, my first thought was 'rather him than me'. But the Henry Surtees Foundation is supported across the whole of motorsport and I'm very happy to back him in what he's doing. When Andy hits the water on Boxing Day I, and a lot of other drivers, will be cheering him on – from a safe distance!"
Andy, who teaches journalism in addition to his work in motorsport, said: "No-one involved in racing will ever forget the awful day Henry died. My students are mostly the age he was, and this motivates me even more to support the foundation.
"I'm nervous about the event as I'm no great fan of the cold, but I'm hoping the mad rush of everyone across the beach will carry me in before I have time to lose my nerve!"
Andy can be sponsored at Virgin Money Giving. Fundraising will remain open until the end of January.
Filed under Events and happenings, Things we've done and tagged with fundraising, Henry Surtees Foundation, motorsport, outdoor swimming.
Comments: Comments Off on Andy's Boxing Day chills will help youngsters learn life-long skills