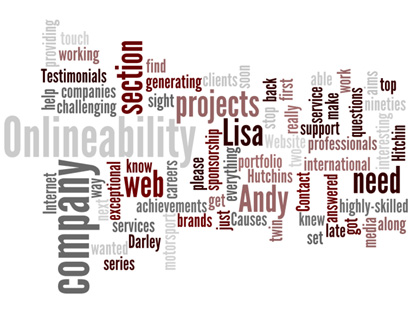 Information for clients and prospective clients
Onlineability is the data controller and its lawful basis for processing information about our clients is the existence of a contract between the two parties. This extends to pre-contract activities for prospective clients such as providing a quote
Onlineability retains client data solely in connection with maintaining its own accounts and records. Personal data may be shared with third party professional advisors, such as accountants, in connection with these tasks.
All client data will be stored and disposed of securely in a timely manner according to the company's records management policies. It will normally retain business data for a maximum of seven years in line with accepted records management practice for business information.
Onlineability will normally not transfer any data outside the European Economic Area. However, we may from time to time use secure file hosting and file sharing services based in the United States or elsewhere in the world. We take steps to ensure that any such services are compliant with international security protocols such as Privacy Shield.
Information for website users
Onlineability is the data controller and its lawful basis for processing information about our website users is consent, which is requested explicitly from all users at the point they first arrive at the site.
We track, and keep for our reference, logs that show the general movement of visitors around the site, including how they found us and how long they spent here. We do this so that we can discover ways of improving the site – for example, making it easier to navigate or providing more of the type of things that people like to read. We do not have the capability to track an identifiable individual visitor, and we don't collect any details about visitors that could tell us who they are – we record their IP address, but no more than this. In particular, we do not collect or keep email addresses from general users.
As operators of this site, we have not personally created any cookies of our own. However, some of the statistics packages we use to run the site may install their own cookies to carry out their work. We use Google Analytics, a third-party statistics package, to understand how our website is used. A link to its privacy statement can be found here.
Information supplied by you, for example in the site search or the contact form, will be used for the purpose you supplied it and no other. We do not ever share or sell your information.
Changes in this policy
This page will be regularly reviewed and will be updated at least annually. The date of the most recent update was August 30 2018.