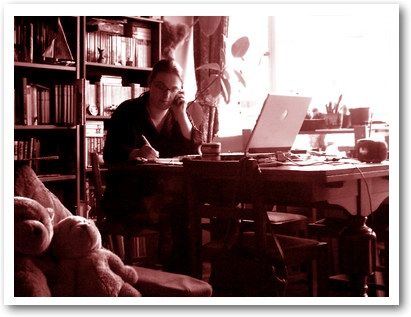 Hello and welcome – I'm a former journalist, now an information architect, content manager and researcher with a broad range of experience working for top-level media, commercial and government organisations.
I have recently completed a Postgraduate Diploma in Information and Library Management from Northumbria University (awarded with distinction) and I am hoping to convert this into a full Masters degree within the next year. In addition to running Onlineability I work part-time as an enquiry librarian in a large county library service. I am an associate member of the Chartered Institute of Library and Information Professionals (CILIP) and am currently working towards Chartership.
What you can expect from me:
I combine new and traditional skillsets: I offer the traditional information skills of user focus, information literacy, accuracy and attention to detail, good communication skills and team working as well as newer skills like fluency with social media, an excellent grasp of IT and web technologies, experience of managing information electronically and of user-centred design principles.
I'm highly user-focused: I apply skills such as active listening and questioning techniques to establish and clarify needs and to put the user at the centre of all the information projects that I work on.
I'm professionally engaged: I'm committed to continuous professional development and a member of Chartered Institute of Library and Information Professionals (CILIP) as well as working in several voluntary roles.
I'm skilled in advocacy: I have excellent communication skills and an aptitude with social media that I have used to advocate for the cause of public libraries and the importance to society of information professionals' work.
I'm professional, conscientious and reliable: I observe the CILIP Code of Professional Practice in my working life.
How I got here
I started out in journalism straight from university and (with a brief detour through a local authority library service which has stood me in amazingly good stead) worked in local newspapers for a decade, doing every job from writing village notes through to interviewing the Prime Minister. The former being by far the most socially useful. Hang on – I think I did actually manage to avoid covering Sunday morning football.
And then the Internet was invented
In July 2000 I left my job as the political correspondent of a regional evening newspaper to become a freelance web editor and producer. I got my first regular work on the emerging website of The Independent and went on to do similar jobs for organisations like ITN, the Times Educational Supplement and Channel 4 News. It was a wonderful few years, and I wouldn't have missed it for the world. But it was becoming increasingly evident that my partner and I needed to swap freelancing for running our own company, in order to have more control over our working lives and the kinds of projects we took on.
I did that by way of some freelance and contract work that allowed me to gain invaluable experience working on big public-sector projects, largely involving content migration for the websites of government departments and for their information portals. I learned vital lessons in how to get things done in a big organisation with a culture of wide consultation and necessary policy approval.
Avoiding information overload
Now my work involves planning the information structures of websites – and that means consulting a lot of people including users, designers, developers and the people that need to keep them updated, drawing together all their different ideas, thoughts and needs and trying to shape the resulting mass of information into something useful.
This is a phase of web development that not many people notice, since it's not nearly as upfront or obvious as design or coding, but it can make all the difference to the finished website and ensure that it works really effectively. At Onlineability we pride ourselves on including this vital stage in our web development process and feel that it gives our sites a competitive edge and an extra value that you will not find in many companies of a comparable size.
Best wishes – Lisa